Sustainable Healthcare Newsletter February 2020
Welcome to the latest Sustainable Healthcare newsletter. So much has happened in Australia and New Zealand since our last newsletter - fires, floods, severe storms and heatwaves. We hope that each of you are safe and those affected have support available. Thank you for everything you are doing to reduce the healthcare sector's contribution to environmental harm and protect our health and well-being.
Quick links
GGHH News
Global Green and Healthy Hospitals (GGHH) membership in Australia and New Zealand continues to grow with 82 members representing over 1,300 hospitals and health services.  More and more health institutions are working to improve their environmental footprint, and protect environmental and human health. They're also realising that it makes sense to do this together through the GGHH network.
If you would like to join the GGHH network or find out more, visit the website or email [email protected] 
Welcome to our new GGHH members
We're thrilled to announce that the Queensland Department of Health, Family Planning NSW, Child and Adolescent Health Services (WA), Beaudesert Hospital (Qld), Kilmore and District Hospital (Vic) Burnside War Memorial Hospital (SA) and Bay of Plenty District Health Board (NZ), have recently joined GGHH. A very warm welcome to each of these members.
Melbourne Health reducing hunger & food waste
GGHH member Melbourne Health produces 2,800 meals for patients each day. A portion of these meals are surplus meals, prepared in case of unplanned events. In the past these meal were often not used, finding their way to landfill.
Melbourne Health's food services production manager was determined to save these meals from landfill and get them to community members in need. This was the beginning of Melbourne Health's partnership with OzHarvest, which now sees an average of 4,200 meals per month going to the community instead of landfill.
Melbourne Health's production kitchen staff are proud to see the meals they prepare helping their community. Similar initiatives could be implemented at any health service's production kitchen to support food charities and reduce food waste.
Health care's climate footprint webinar recording now available on GGHH Connect
This webinar presented the findings and recommendations from the Health Care Without Harm report on Health care's climate footprint and showcased the innovative solutions that members of the GGHH network are implementing around the world to take climate action and reduce the climate footprint of the health care sector.
GGHH members can watch the recording on GGHH Connect here.
It includes presentations by - 
Josh Karliner- International Director of Program and Strategy – Health Care Without Harm.
Laura Angeletti du Toit- Chief Director of Infrastructure Management – Western Cape Government.
Manjula Sickler- Sustainability Manager – Auckland District Health Board, New Zealand.
Join our Global Green and Healthy Hospitals network for access to this webinar and the entire GGHH webinar library 
Sustainable Healthcare News
UK's National Health Service commits to net-zero emissions and launches 'For a Greener NHS' program
The NHS in the UK is stepping up to address the health emergency of climate change. 
"Climate change poses a major threat to our health as well as our planet. The environment is changing, that change is accelerating, and this has direct and immediate consequences for our 
patients, the public and the NHS."
The NHS will take three steps to address climate change and air pollution-
First, NHS England is establishing an expert panel to chart a practical route map this year to enable the NHS to get to 'net zero', becoming the world's first major health service to do so.
Secondly, the NHS will be taking immediate action in 2020, with a proposed new NHS Standard Contract calling on hospitals to reduce carbon from buildings and estates, whilst switching to less polluting anaesthetic gases, better asthma inhalers, and encouraging more active travel for staff.
Thirdly, the 'For a greener NHS' program has been launched to "build on the great work being done by trusts across the country, sharing ideas on how to reduce the impact on public health and the environment, save money and – eventually – go net carbon zero." The website includes resources such video case studies (see resources section below).
What a climate friendly operating theatre looks like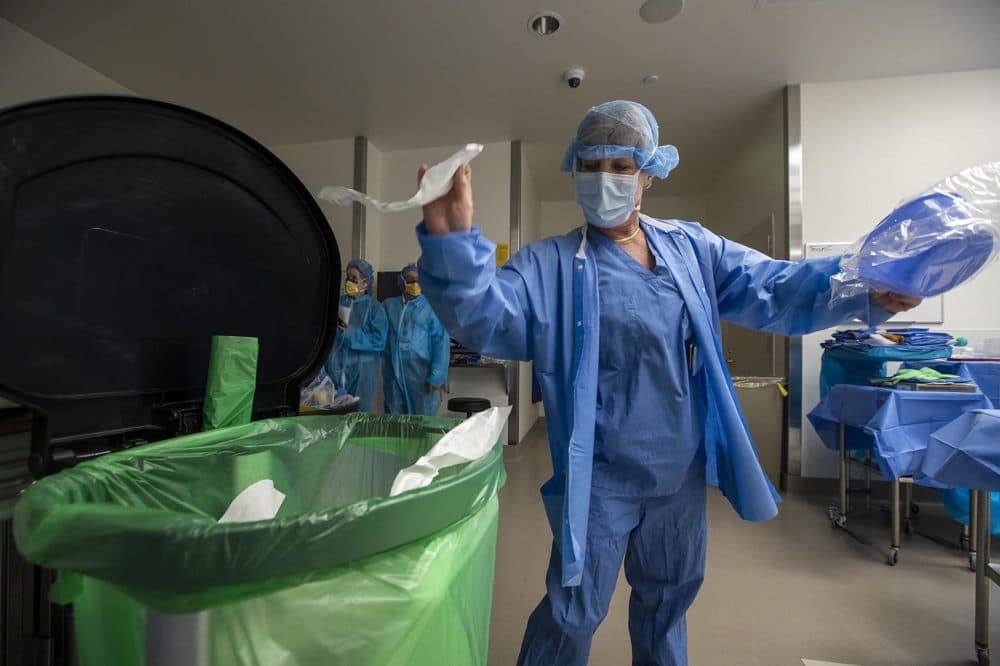 There are sustainability initiatives and recycling programs taking place in health care services across the world, driven by passionate staff members. But what do all these changes look like in practice?
This article follows one patient's surgery and shows how a number of different sustainability initiatives implemented by Boston Medical Centre come together to reduce the carbon footprint of the surgery.
Medications contaminating waterways and wildlife
Research conducted in outer Melbourne has shown that medications are finding their way into our rivers and creeks, as well as the fish and insects that inhabit them.
Researchers tested waterways and insects for almost one hundred different pharmaceuticals, including anti-depressants, analgesics and anti-hypertensives. It was found that trace medications were travelling up the food chain from smaller insects to spiders, suggesting that animals further up the food chain are also potentially being exposed to a range of trace medications.
This research adds to the global evidence base showing pharmaceuticals are being detected in the environment, a problem that is only expected to rise as the populations ages and medication use increases.
Reflections on the bushfires and the climate emergency from healthcare professionals
Melissa Sweet from Croakey has spoken with seven health professionals who have been on the frontlines of the Australian bushfires, including CAHA President Amanda Adrian, who is a Rural Fire Services coordinator in NSW.
A common theme across their accounts is frustration at the lack of government action on climate change, with many assuming the severe drought and now the bushfires would be enough to prompt urgent action. There are also concerns about the lack of coverage in mainstream media about the impact of these crises on Aboriginal communities.
Health Care Without Harm call for health care to avoid PVC products
Health Care Without Harm (HCWH) have released a position statement on PVC, calling for health care facilities to avoid products made with the plastic.
PVC is problematic because of the chemicals generated by its manufacture, use and disposal. The potential for the release of toxic chemicals from PVC throughout its life cycle places our environment, community and patients at risk.
The good news is safer alternatives are available for many products. Practice Greenhealth have developed resources to help hospitals reduce their use of PVC.
Education and Events
COMING UP
10th Australian Healthcare Week
March 25 & 26 - Sydney
The 10th Australian Healthcare Week brings together health industry leaders to discuss the successes and challenges of healthcare infrastructure and design, digital health technologies and aged care. The conference gives attendees the opportunity to network and hear about innovative solutions to improve patient care.
GGHH members Western Health's CEO Russell Harrison and WA Country Health Service's Director of Infrastructure Robert Pulsford are among the debaters for this year's great debate. The topic is Sustainable Hospitals: Is the Investment Worth it or Is It Just a Fad?
Take a look at the agenda or register here
New South Wales Nurses and Midwives Association (NSWNMA) Environmental Health Seminar
April 3 - Sydney
At this annual NSWNMA forum you'll hear from a range of speakers, network with like-minded colleagues from residential, community and hospital settings, and across private and public sectors. Read more and register here.

Program:
The Implications of a Climate Emergency;
Mental Health & Climate Change;
Making a Difference in Sustainable Healthcare;
Operating Theatres and Recycling of Waste;
Update: Where are we at with Adani – tipping point;
Updates from Beginning Small Projects.
iDEA 2020 
April 3, 4 & 5 - Canberra 

Doctors for the Environment are presenting their annual conference in partnership with the Climate Institute at Australian National University. The conference brings together medical practitioners, researchers and policy makers to discuss the links between health, environment and climate change.
This year the program will explore links between health and the environment through Indigenous, rural and urban perspectives. The conference will open on Friday with two symposiums, on one Eco-Anxiety and one on Healthcare Sustainability (at which CAHA's Sustainable Healthcare Program Manager, Carol Behne, will be presenting on lessons from the GGHH network). Day two of the forum focuses on Mapping the Problem, and Day three on Policy, politics and how to achieve change.
National Sustainability Conference
April 27-28 - Brisbane
The Association for Sustainability in Business hosts the National Sustainability Conference for professionals passionate about sustainability. The conference is a space to share research, projects and industry developments in all facets, from energy and economy through to environment. CAHA's Project Consultant, Sue Cooke, will be presenting on day one of the conference on Health as a Pathway to Climate Action: Climate Resilient Healthcare
Australian Nursing and Midwifery Foundation (ANMF) Victorian Branch Health & Environmental Sustainability Conference
May 1 - Melbourne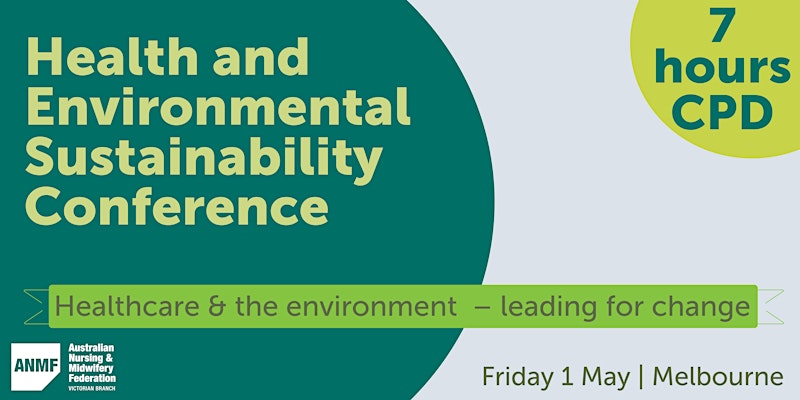 The ANMF (Vic Branch) Health and Environmental Sustainability Conference gives nurses, midwives and other health care professionals the opportunity to share practical ways to create more environmentally sustainable health services. Hear from healthcare professionals from hospitals around Victoria and explore ways to reduce waste and improve sustainability in the workplace to support better health for the community.
Preventative Health Conference 2020
May 13, 14 & 15 - Perth
The Public Health Association of Australia's 2020 conference theme is 'Can do prevention: effective action in a volatile world'. The conference includes a wide range of presentations including sessions on developing effective preventative health campaigns and policies and how to embed climate resilience in health. Dr Nicolas Watts, the executive director of the Lancet Countdown on Health and Climate Change, is a keynote speaker at the event.
Sustainable Healthcare Forum Aotearoa and Climate Change & Health Conference 2020
June 16 &17 - Wellington, New Zealand
Registration will be up and calls for abstracts will go out very shortly (an notification will be sent to this email list to advise when)
IN CASE YOU MISSED IT...
Recording of Expert Panel Discussion on 'The Health Emergency of Climate Change'
On Thursday, 13 February, the Climate and Health Alliance partnered with the Sustainable Living Foundation to present a free expert panel discussion on 'The Health Emergency of Climate Change'. Guest speakers included: Victorian Chief Health Officer Dr Brett Sutton, Dr Liz Hanna, Dr Lou Irving, Dr Simon Judkins, Dr Charles Le Feuvre and Fiona Armstrong.
Speakers discussed the overall health impacts of climate change, including mental health impacts; the specific impacts of heatwaves and air pollution; and the role of health professionals to lead on climate action. 
You can listen to the talk 
here
 (the audio improves a few minutes in!) and read the publicly available presentations 
here
. 
Advocacy
Climate change is a health emergency
The Climate and Health Alliance has launched a new campaign,
Climate change is a health emergency
, to support health organisations and professionals to take action to help secure climate action to protect our health.
Research, Resources and Reports
RESEARCH
Should health professionals participate in civil disobedience in response to the climate change health emergency?
Researchers in New Zealand have published a paper in The Lancet to guide healthcare professionals who may be considering engaging in civil disobedience to persuade governments to act more urgently on climate change. This paper provides a framework to guide decision making, and argues the threat of climate change is so great that the negative consequences of civil disobedience are outweighed by the risks (however, this is country and situation dependent).
Climate change and health inequity in New Zealand
Climate change is already impacting the health of people all over the world. This paper explores the impacts of climate change on health in New Zealand and how it will exacerbate health inequities that are already experienced by New Zealanders. The author argues that developing a country specific understanding of the impact on climate change and health will allow initiatives to be developed that address local health inequities and prevent vulnerable groups from disproportionately experiencing the impact of climate change.
RESOURCES
For a Greener NHS website
As well as outlining the NHS's commitment and plans to achieve net zero emissions, this page includes suggestions for how to get involved, and case studies of environmental projects such as this video case study on reducing single use plastics case study from Great Ormond Street Hospital.
The Alliance of Nurses for Healthy Environments resources
ANHE have a range of resources freely available for nurses and other health professionals in the areas of climate change, water, energy, food, including podcasts, and an e-Textbook. 
Return Unwanted Medicines
Return Unwanted Medicines (RUM) is an initiative supported by the Commonwealth Government to provide the community with a safe way to dispose of expired or unwanted medications.
With a growing body of evidence showing medications are contaminating our environment, proper disposal of medication is one way to reduce the environmental impact we are having on the planet. It also reduces the risk of medication mismanagement (such as taking the wrong medication) in the home by helping ensure people only have the medications they currently require in their home.
All PBS approved community pharmacies in Australia have a RUM bin where pharmacists collect unwanted medications and send them to be incinerated.
Encourage your patients to return expired or unwanted medicines they have at home to any community pharmacy to have them disposed of responsibly.
Click here for more information
REPORTS
PVC in health care
Health Care Without Harm have released a report on PVC in healthcare to support their recently released position statement calling for health care facilities to avoid products made with the plastic.
The report details the environment impacts of PVC across its lifecycle.
Producing PVC is an energy intensive process that requires the use of chemicals of concern including mercury and asbestos. The PVC used in medical products often contains a compound known as diethyhexyl phthalate (DEHP) which has been shown to have negative impacts on testosterone production and male reproductive tract development in animals. PVC is also a difficult material to recycle. 
Share
If you would like to share information about something you've been working on, or something you've found helpful via this newsletter, please email it to [email protected]
Join GGHH
If you are interested in signing your organisation up to become a member of the Global Green and Health Hospitals Network, please click here to see more details about the program and how to join or email [email protected]
About CAHA
This newsletter is brought to you by the Climate and Health Alliance (CAHA). CAHA is the national climate and health peak body with the mission to build a powerful health sector movement for climate action. To do this, we run a number of campaigns and programs along with our sustainable healthcare program, click the links to find out more:
If you'd like to stay in touch and see other important stories, make sure you follow CAHA on Twitter and Facebook 
Did you know individuals, as well as organisations, can join CAHA? If you like what we do, and would like to support our work, please join and become a member of the Climate and Health Alliance. You will be joining a dynamic effort to ensure people's health and well-being is central to national and global efforts to respond to climate change. To join CAHA, follow this link!