home
Tuesday 12 January 2010
Welcome to the Climate and Health Alliance
NEWS and MEDIA

The Climate and Health Alliance is leading a process to achieve a National Strategy on Climate, Health and Well-being for Australia. In June 2016, CAHA commenced a national consultation with healthcare stakeholders with its Discussion Paper: Towards a National Strategy on Climate, Health and Well-being.
All health care stakeholders and interested parties are invited to respond to the ideas raised in the Discussion Paper through the
online survey
(available for review prior in the paper's Appendix).
Healthcare stakeholders and interested parties are also invited participate in the Climate Health Wellbeing Online Discussion Forum between 13th-21st August. A Health Leaders Roundtable in October 2016 will discuss a summary of the feedback from these consultations, and a subsequent policy proposal developed in consultation with supporting organisations. This policy proposal will then be put forward to the federal government.
The Climate and Health Alliance (CAHA) surveyed the main political parties and analysed their policies in the lead up to the July 2 election. Among the issues surveyed were: political support for the creation of a national climate and health strategy, stronger greenhouse gas emissions reduction targets, phasing out of coal and unconventional gas mining, and a national moratorium of new mines. The re-election of the Coalition means that Australia has no policies directly addressing the health impacts of climate change or the health benefits of emissions reductions. CAHA will continue to advocate for a national strategy on climate, health and well-being. The results from the 2016 Climate and Health Scorecard appear below. A copy of the CAHA Climate and Health Policy survey distributed to political parties is available here. The media release about the Scorecard is here.

Climate and Health Alliance, Australian Health Promotion Association and Doctors Reform Society are among 82 organisations signing a Global Health Statement outlining the huge benefits to both human health and economies from shifting away from coal. The groups in Australia are part of a global effort involving more than 300,000 doctors, nurses and public health professionals and advocates from 30 countries calling on G7 nations, meeting in Japan this month, to accelerate the transition away from coal to save lives. Signatories to the Global Health Statement say all G7 countries need to speed their efforts to phase out coal to prevent the worst health effects of climate change. They say momentum is building among many G7 countries, but Australia is moving in the opposite direction, expanding coal and failing to support the transition to renewable energy. Read more >>>

In an open letter to all Australian Parliamentarians, an unprecedented alliance of 51 health, environment, legal, aid, union, farming, and religious groups state have called for all parliamentarians to commit to net zero carbon emissions reduction targets. Download media release here, and read the Open Letter here.  
LATEST REPORTS

Investing in Health: a CAHA and DEA report
The Climate and Health Alliance and Doctors for the Environment, Australia have released a joint report: Investing in Health, on the case for health and medical professionals and health and medical organisations to divest from climate changing fossil fuel investments, and shift their financial resources to clean, healthy, low carbon investments. The report is available here.
Report from CAHA on Health at the COP21 and the Paris Agreement
Health professionals and groups from around the world gathered in Paris to meet with negotiators, and highlight the need for health to be recognised in the global climate talks at COP21, in December 2015. There were also dozens of concurrent meetings and conferences for health groups to strategize together keeping the pressure up, to ensure people's health and wellbeing is acknowledged as a key driver for, and an outcome of, ambitious global and national climate policy. Climate and Health Alliance Executive Director Fiona Armstrong, Vice-President Peter Sainsbury, and CAHA Director/Australian Medical Students Association delegate Alice McGushin were in Paris for the COP. This report captures some of the efforts of climate and health advocates in Paris to ensure health was recognised in the text of the Paris Agreement, as well as report on some of the events CAHA was involved in. Download the report from CAHA on Health at COP21
here.
New Briefing Paper from Global Climate and Health Alliance

The Global Climate and Health Alliance, which includes CAHA, Health Care Without Harm, the US Climate and Health Alliance, Climate and Health Council (UK), Health and Environment Alliance (Europe), Canadian Association for Physicians for the Environment, and the International Federation of Medical Students, (IFMSA) released a Briefing Paper 'Health in 2015 and Beyond' during the COP which outlines why a strong climate agreement at COP21 is so vital for protecting our health. Health delegates are using this paper to help highlight health at COP21, and are urging country negotiators to include health in the text of the global agreement as per the recommendations. You can download the paper and executive summary here.
The Climate and Health Alliance (CAHA) is pleased to share this report from a world-first global survey on climate and health policy led by CAHA, Public Health Association of Australia (PHAA), Health Care Without Harm (HCWH), World Medical Association (WMA), and WFPHA Environment Work Group, on behalf of the World Federation of Public Health Associations (WFPHA) .
RECENT EVENTS
People's Climate March

In late November all around Australia, we marched in unprecedented numbers. Over 140,000 Australians took to the streets making it the biggest climate marches in Australian history. This included 60,000 in Melbourne, 45,000 in Sydney, 10,000 in Brisbane and large crowds in Canberra (6K), Hobart (4K), Adelaide (6K), Perth (8K), Darwin (more than 500) and other regional towns including Broome, Cairns, Coffs Harbour and more than 40 others. But that historic moment didn't just happen. It came about because people like you showed up and stood for what you believe in. A healthier future for people and planet. See our facebook page for some of the highlights!
Seminar: Our Climate is Our Health

On the 19th of November, 2015 the Our Climate is Our Health' seminar in Melbourne brought together CAHA members and broader healthcare sector stakeholders to learn from one another on advocating for action on climate change, to strengthen relationships and build understanding between health and environment groups, and to work towards developing a collaborative national strategy on climate change and health €" with the goal of getting policy outcomes within two years. A full report from Our Climate is Our Health Seminar can be found here.
Think tank: Greening the Healthcare Sector

The fourth annual Greening the Healthcare Sector Think Tank was held on 20th November 2015 at Western Health in Footscray, Melbourne. The Think Tank was attended by over 40 health sector leaders, including health service executives, directors of nursing, professional medical and nursing / midwifery organisations, clinicians, sustainability officers, educators, health union representatives, and operations/ facilities managers. A series of inspiring speakers in the morning was followed by an afternoon of stimulating discussion. You can see the full report here.
RESEARCH
2015 Lancet Commission on Health and Climate Change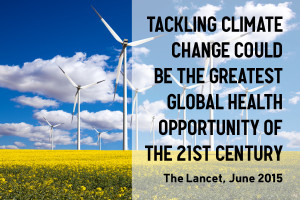 This report, published in the international medical journal The Lancet, updates and builds on the ground breaking UCL-Lancet Commission published in 2009 when climate change was first described as the €œbiggest global health threat of the 21st century. The 2015 Commission brings together more than 60 international experts as a new commission to respond to climate change. "Given the potential of climate change to reverse the health gains from economic development, and the health co-benefi ts that accrue from actions for a sustainable economy, tackling climate change could be the greatest global health opportunity of this century" - The Lancet Commission 2015. For more information, see CAHA Media Release and Climate Health Commission  
HEALTHCARE CLIMATE CAMPAIGN
The 2020 Health Care Climate Challenge is underway! A new campaign to mobilise hospitals and health centres to commit to 2020 emissions reduction targets has kicked off globally. For more information, including how to sign up your facility, follow this link.  
NOW SCREENING

A new short film,'The Human Cost of Power', has been released by the Climate and Health Alliance and Public Health Association of Australia.The film explores the health and climate impacts associated with the massive expansion of coal and unconventional gas in Australia.
Click here to see the film on YouTube.
For a copy of the film for a screening in your community or workplace, contact CAHA Convenor Fiona Armstrong
[email protected]
RECENT
REP
ORTS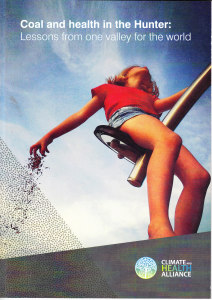 This new report,
Coal and Health in the Hunter: Lessons from one valley for the world,
provides an insight into the evidence of the harm €" local, national, and global €" from coal production in the Hunter Valley in New South Wales, Australia. The report reveals there is serious adverse impacts to physical and psychological health associated with coal mining, transportation and production, and estimates there is millions of dollars in health damages associated with air pollution from coal sources in the Hunter and billions of dollars per annum associated with the social costs of carbon from Hunter Valley coal. To download the full
Report
,
Recommendations for Action
,
Summary for Policymakers
, Case Studies, Infographics and Videos - see
http://caha.nationbuilder.com/projects/hunter-coal/
RESOURCES
New Tool for Sustainable Healthcare

This new tool is available FREE for hospitals and healthcare settings globally. GGHH has been developed by the Climate and Health Alliance's international partner,
Health Care Without Harm.
This network is built around a framework known as the
Global Green and Healthy Hospitals Agenda
, a new tool for health care settings around the world to reduce the environmental footprint of the health sector to improve public environmental health and save money. For more information, see
www.greenhospitals.net
or contact CAHA at
[email protected]