healthy energy
Monday 23 July 2012
We need clean, healthy, safe, and sustainable energy systems
Current energy systems in Australia are posing serious risks to health and contribute to emissions growth and climate change. The burning of coal for electricity generation and other fossil fuels for transport poses serious direct risks to human health. In contrast, renewable energy technologies that harvest natural resources such as wind and solar power provide clean, healthy, safe alternatives to fossil fuels such as coal, oil, and gas.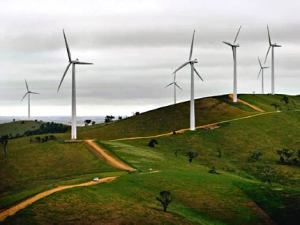 Shifting to clean renewable energy systems is better for health, and can save billions of dollars annually in avoided ill health and productivity gains.
Ill health and deaths associated with fossil fuel use is costing the community billions of dollars annually from respiratory, cardiovascular and nervous system diseases caused by exposure to the extraction, transportation and combustion of coal, oil and gas. Air pollutants account for a huge proportion of the health costs, contributing to: respiratory diseases such as asthma and lung cancer; cardiovascular diseases which lead to heart attacks; while mercury contributes to developmental delay and permanently reduced intellectual capacity in exposed children.[1]
The
rapid expansion of mining of coal and coal seam gas in Australia carries serious potential risks to health and well-being, land and water quality
. There are
around 30 new coal mines and coal mine expansions
planned for New South Wales and Queensland, and if they proceed would more than double Australia's current coal exports of over 300Mt per annum. It is estimated
there will be 40,000 gas wells in Australia over the next two decades
- which carry risks to health from contamination of air, soil and water. Somewhat outdated estimates put the health damage from Australian coal-fired power stations for the Australia community at $A2.6 billion annually. Together with estimates of health damage from fossil fuel powered transport emissions, this amounts to an annual health bill of almost $6 billion for Australian taxpayers as well as contributing to thousands of deaths each year.
[2]
Australia has abundant renewable energy resources that are the envy of the world. A 2010 report from Geoscience Australia and the
Australian Bureau of Agricultural and Resource Economics (ABARE)
confirms Australia has a very large and widely distributed renewable resource base, which includes wind, solar, bioenergy, geothermal, wave and tide as well as hydro resources.
[3]
According to this report, Australia's wind resources are among the best in the world, primarily located in western, south-western, southern and south-eastern coastal regions but extending hundreds of kilometers inland. Our solar resources are also unparalleled: Australia has the highest average solar radiation per square metre than any other continent. The amount of the Sun's energy falling on Australia in one day is equal to half the total annual energy required by the whole world.
Despite these abundant energy resources, Australia has failed to capitalise on them by investing in technologies to harvest the clean, renewable, (and free) energy provided by sun and the wind and the waves.
The Zero Carbon Australia 2020 Plan developed by the Melbourne Energy Institute (MEI) and research consultancy Beyond Zero Emissions (BZE) in 2010 demonstrates that not only does Australia have sufficient non-fossil renewable energy resources to power its entire stationary energy sector, but shows the transition to 100% renewable energy is affordable and can be accomplished in a short time frame. The carbon liability and health consequences associated with Australia's energy supply systems
mean that a rapid transition away from fossil fuels is necessary to protect health and reduce the economic impost of health and social damages. The Climate and Health Alliance asserts that there is sufficient grounds of the basis of protecting human health to ban the further development of coal-fired power generation and for governments to introduce policies that recognise the externalised costs of power generation and provide incentives to encourage technologies that do not cause harm. In addition to a price on carbon that reflects the health and climate costs of using fossil fuels for energy generation and transport, a suite of comprehensive policies must be developed to ensure Australia's future energy security in light of a substantial and imminent carbon liability and to ensure Australia's emissions reductions trajectory is consistent with Australia's fair share of the global responsibility to reduce emissions.
We need energy systems in Australia that reduce emissions and protect and people's health. Cleaner, safer, and healthier energy options exist. It's time to implement them.
[1]
Physicians for Social Responsibility,
Coal's Assault on Human Health
, November 2009.
[2]
Biegler, T.
The hidden costs of electricity: Externalities of power generation in Australia
, Report for the Australian Academy of Technological Sciences and Engineering (ATSE), 2009.
[3]
Geoscience Australia and ABARE, Australian Energy Resource Assessment, 2010, Canberra. Available at
https://www.ga.gov.au/image_cache/GA17412.pdf
End fossil fuel subsidies
CAHA has joined dozens of organisations, including OilChangeInternational, calling for an end to fossil fuel subsidies. In addition to signing a joint statement, we participated in a Twitter campaign
#endfossilfuelsubsidies
during the recent Rio+20 Earth Summit calling on Australian and international governments to end fossil fuel subsidies.
The health and wellbeing of people in Australia and around the world is being put at risk by public subsidies to carbon intensive fossil fuels. In contrast, clean, renewable energy provides safer, healthier alternatives, and yet these energy sources, that offer Australia economic, social, environmental and health benefits, are not being subsidised to the same extent.
Australian taxpayers provide almost $12 billion each year to subsidise fossil fuels €" the same resources that cause untold harm to human health from air pollution and contribute to global changes that affect our weather patterns.
For further information see CAHA's media release: 'Fossil fuel subsidies are harming our health' on the topic here and a Joint Statement from non-government organisations from around the world.
Repower Port Augusta
The
Repower Port Augusta
campaign is seeking to have Port Augusta's ailing coal-fired power plants replaced with solar thermal power facilities, for which there are strong economic, environmental, and health arguments. Port August has twice the average incidence of lung cancer, believed to be associated with the local coal fired power stations. A plan on the project has recently been developed by research organisation Beyond Zero Emissions.
Repowering Port Augusta
is a blueprint for replacing the emissions intensive Northern and Playford B brown coal power plants at Port Augusta with renewable energy. This plan outlines a technical solution to replace the coal generators with solar thermal power (that's solar with storage), so it provides baseload (eg round the clock) power. The Climate and Health Alliance supports this campaign and encourages other health organisations to also endorse the Plan and support solar thermal power, not coal, for Port Augusta.