We need clean, healthy, safe, and sustainable energy systems 
The Healthy Energy Initiative is a global collaboration of health professionals, health organizations, and health researchers engaging in science-based advocacy for a move away from fossil fuel-based power generation—particularly coal—and toward clean, renewable, healthy energy options.
The Climate and Health Alliance is engaged in a series of projects to raise awareness among health professionals and the wider community about the risks to health from current energy policy in Australia, based as it is on fossil fuels, particularly for energy generation and transport.
Current energy systems in Australia are posing serious risks to health and contribute to emissions growth and climate change.
The burning of coal for electricity generation and other fossil fuels for transport poses serious direct risks to human health.
In contrast, renewable energy technologies that harvest natural resources such as wind and solar power provide clean, healthy, safe alternatives to fossil fuels such as coal, oil, and gas.
Click here for more information 
---
The Health Impacts of Energy Choices
The Health Impacts of Energy Choices is a set of resources (including a briefing paper, a fact sheet, and two graphics) developed by the Healthy Energy Initiative that summarize the key health considerations in energy systems and energy policy. The resources were developed for health care and public health professionals, but they are accessible to a broad, global audience. As part of the Healthy Energy Toolbox, these resources can be freely used to support education, outreach, communications, and advocacy about the relationship between human health, energy, and climate change.
More information is available at Healthy Energy Initiative
Leading health bodies declare Australia's reliance on coal dangerous for health
Prominent health organisations from across Australia are calling for a phase out of coal citing a growing and significant body of research documenting severe health effects.
The health groups include: the Public Health Association of Australia (PHAA), Australian Nursing and Midwifery Federation (ANMF), National Toxics Network (NTN), Services for Australian Rural and Remote Allied Health (SARRAH), Australian Medical Students Association (AMSA), Women's Health East (WHE) and CAHA.
---
All sources of energy to support human activity have implications for health. We, as a society, need to choose how we harvest energy so that we use the ones with the least overall adverse impacts on health.
These papers on Health and Energy Choices seek to open this discussion for Australia, and begin a national conversation about making  energy choices that benefit us now and into the future.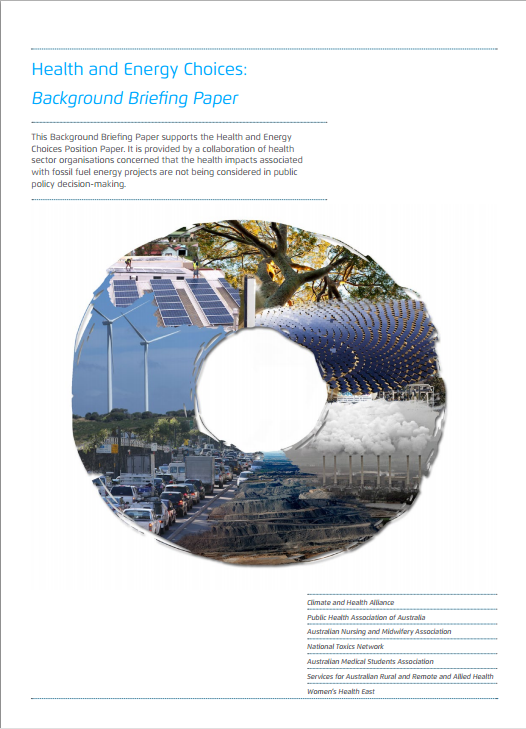 This Position Paper outlines the concerns and recommendations for action to reduce risks to health from current energy choices.
It has been produced by a collaboration of health sector organisations concerned that the health impacts Australia's energy choices are not being considered in public policy decision-making.
An accompanying Background Paper provides an overview of evidence with regard to the risks to human health and wellbeing associated with fossil fuel energy resources as well as their alternatives.
Download Papers as PDFs
Health and Energy Choices: Position Paper (795 Kb)
Health and Energy Choices: Background Briefing Paper (3.6 Mb)
Papers as PDFs with High-res images (300dpi compressed)
Health and Energy Choices: Position Paper (3.8 Mb)
Health and Energy Choices: Background Briefing Paper (22.7 Mb)
.

---
---
The human cost of power 
The Climate and Health Alliance, together with the Public Health Association of Australia, has commissioned a new short film: The Human Cost of Power,  released in September 2013.
  Produced by Fiona Armstrong and directed by award winning science journalist Alexandra de Blas, this film explores the health impacts associated with the massive expansion of coal and unconventional gas in Australia.
The film features respected health and medical experts: Associate Professor Linda Selvey, Associate Professor Ruth Colaguiri, Dr Mariann Lloyd Smith, and Dr George Crisp. Click here to check out the film on CAHA's Youtube channel.
.
---
.
Roundtable on the Health Implications of Energy Policy
As part of this project, the Climate and Health Alliance partnered with the Climate Change Adaptation Research Network – Human Health, Public Health Association of Australia, Australian Healthcare and Hospitals Association, and National Rural Health Alliance in holding a Roundtable and Workshop for health leaders on the Health Implications of Energy Policy in Canberra in February 2013.

The Roundtable for health leaders and energy experts was also attended by the Commonwealth Chief Medical Officer, Dr Chris Baggoley, and heard from expert speakers on the health implications of current energy policy and sustainable energy systems and policy options.
A Joint Statement from Roundtable participants, including the leading health groups, and joined by Cancer Council Australia, Australian Research Alliance for Children and Youth (ARACY), National Toxics Network (NTN), Australian Physiotherapy Association (APA), and NSW Nurses and Midwives' Association (NSWNMA) announced their intention to work together collaboratively to highlight the adverse health impacts and environmental damages associated with current minerals energy policy, particularly those relating to coal and coal seam gas.
Click here for the media release and Joint Statement on the Health Effects of Australia's Minerals and Energy Policy.
See the event program  for more details here. Download the accompanying Briefing Paper here.
---
---
End fossil fuel subsidies
CAHA has joined dozens of organisations, including OilChangeInternational, calling for an end to fossil fuel subsidies. In addition to signing a joint statement, we participated in a Twitter campaign #endfossilfuelsubsidies during the recent Rio+20 Earth Summit calling on Australian and international governments to end fossil fuel subsidies.
The health and wellbeing of people in Australia and around the world is being put at risk by public subsidies to carbon intensive fossil fuels. In contrast, clean, renewable energy provides safer, healthier alternatives, and yet these energy sources, that offer Australia economic, social, environmental and health benefits, are not being subsidised to the same extent.
Australian taxpayers provide almost $12 billion each year to subsidise fossil fuels – the same resources that cause significant harm to human health from air pollution, and contribute to global changes that affect our weather patterns.
For further information see CAHA's media release: 'Fossil fuel subsidies are harming our health' on the topic here and a Joint Statement from non-government organisationsfrom around the world.
---
Repower Port Augusta
The Repower Port Augusta campaign is seeking to have Port Augusta's ailing coal-fired power plants replaced with solar thermal power facilities, for which there are strong economic, environmental, and health arguments.
Port August has twice the average incidence of lung cancer, believed to be associated with the local coal fired power stations.
A plan on the project has recently been developed by research organisation Beyond Zero Emissions.
Repowering Port Augusta is a blueprint for replacing the emissions intensive Northern and Playford B brown coal power plants at Port Augusta with renewable energy. This plan outlines a technical solution to replace the coal generators with solar thermal power (that's solar with storage), so it provides baseload (eg round the clock) power.
The Climate and Health Alliance supports this campaign and encourages other health organisations to also endorse the Plan and support solar thermal power, not coal, for Port Augusta.
---
References
[1] Physicians for Social Responsibility, Coal's Assault on Human Health, November 2009.
[2] Biegler, T. The hidden costs of electricity: Externalities of power generation in Australia, Report for the Australian Academy of Technological Sciences and Engineering (ATSE), 2009.
[3] Geoscience Australia and ABARE, Australian Energy Resource Assessment, 2010, Canberra. Available at https://www.ga.gov.au/image_cache/GA17412.pdf
[4] Healthy Energy Initiative (2016), accessed from http://www.healthyenergyinitiative.org/ on 31st October, 2016
---