green healthcare
Monday 23 July 2012
Greening the Health Sector
The Climate and Health Alliance is committed to working within the healthcare sector to encourage healthcare organisations to reduce their environmental footprint.
Global Green and Healthy Hospitals
Together with our international partner, Health Care Without Harm, and Australian partner, the Australian Healthcare and Hospitals Association, the Climate and Health Alliance, is supporting health care organisations to join the Global Green and Health Hospitals Network. A list of GGHH Pacific Network members can be found here. All members of this network have access to a comprehensive framework to achieve greater sustainability and to contribute to improved public environmental health.
The Network is quickly becoming a vibrant international community of hospitals, health systems and member organizations, all seeking to implement and the Agenda, achieve measurable outputs and share best practices (for more see www.greenhospitals.net). Founding Network Members include the Sustainability Unit of England's National Health Service, the Indonesian Hospital Association, the Australian Healthcare and Hospitals Association, Thailand's Department of Health, the Healthier Hospitals Initiative in the United States and individual hospitals in countries such as Argentina, Brazil, England, Mexico, Costa Rica, Nepal and India, and Australia. Below are two case studies from Pacific Network members, examples of some of the many resources available through the GGHH network. Stakeholder Engagement, Mater Misericordiae Health Services Brisbane Limited. Theatre recycling at Middlemore Hospital, Counties Manukau District Health Board. Recent Global Green and Healthy Hospitals News
Southern Cross Community Care (ACT & NSW) - We would like to welcome Southern Cross Community Care (ACT & NSW) to the Global Green and Healthy Hospitals network. We would also like to congratulate them on collecting an award at the Aged & Community Services 2016 State Awards for Excellence. "The Green Team" was formed in 2010 in order to guide the organisation on the sustainability journey through many methods. They were presented with the Gareth Williamson Sustainability Award: €œDemonstrating Outstanding Sustainability Practices.
Member Survey - GGHH are looking for your feedback and thoughts on what is the best what to support sustainable healthcare around the world. Your feedback will provide useful information on what your priorities are for sustainable healthcare, tools and resources you utilise, and what tools and resources would best support you and your needs. Please click here to complete the survey.
2020 Healthcare Climate Challenge awards are now open! Make sure you're in the running to have your successes celebrated globally. Find out more about the 2020 Challenge here.
Climate Resilience Standard for Healthcare
A Working Group led by CAHA also submitted a Proposed Draft Standard on climate resilience to the Australian Commission on Safety and Quality in Health Care (ACSQHC) for consideration for inclusion in new NQSHC standards (submitted to a national standards review underway in 2015). It is proposed that climate change be included in the risks that need integrated systems of governance as in Standard 1 of the National Safety and Quality Health Service Standards - Governance and quality improvement systems. The Proposed Draft Standard and Briefing Paper were developed by a multidisciplinary working group including Dr Marjorie Pawsey, Prof David Greenfield, A/Prof Peter Sainsbury, Andrew McAuliffe, Dr Maggie Jamieson, Dr Forbes McGain, Rob Bunting, and Fiona Armstrong. The rationale for this standard is as follows: the evidence is clear that climate change poses risks to the safety and quality of patient care. Thus climate change should be included in the risks that need integrated systems of governance as in Standard 1 of the National Safety and Quality Health Service Standards. Proposed new standard: Minimising the health risks of climate change Organisation wide planning and systems reduce risks from the impacts of climate change to the health of patients and to the delivery of safe, quality care.
Click on the following links to view the Proposed standard for minimising the health risks of climate change in detail and accompanying Briefing Paper: Climate Change is a Threat to Safety and Quality of Health Care.
Greening the health sector 'Think Tanks'
The Climate and Health and Alliance and Australian Hospitals and Healthcare Association co-host an annual Think Tank on Greening the Health Sector'.
2015
The 2015 'Greening the Healthcare Sector' Think Tank, was held on 20th November 2015, at Western Health in Footscray, Melbourne. The successful Think Tank was attended by over 40 health sector leaders, discussing topics, including:
Health Impacts of Climate Change - Presented by Paul Holman from Ambulance Victoria
Sustainability in Healthcare Design - Presented by Jane Carthey from Australian Health Design Council
Need for Leadership from Hospital Executives - Presented by Patrick Tobin from Catholic Healthcare
Engaging for Behaviour Change for Sustainability - Presented by Michele Burton from Drivers for Sustainability
Scott Slotterback, the Policy Director of Global Green and Healthy Hospitals (GGHH), joined the meeting via videolink from California to shed light on the growing members of GGHH and to share information on the latest campaign, 2020 Healthcare Climate Challenge. To view more information about the 2015 Think Tank,
click here
.
2014
This year's Think Tank, '
The Health Sector as a Leader in Low Carbon Transformation
', held at the Mater Hospital, South Brisbane on Tuesday 14
th
October 2014.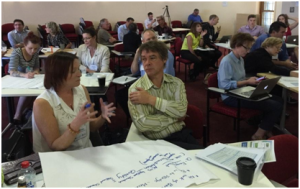 This dynamic and interactive event featured case studies and experts and discussion on the following themes:
Building healthy and sustainable healthcare infrastructure
Waste not the transformation of disposal in healthcare
Engaging others making sustainability everyone's business
Building a national and global community for healthy, sustainable healthcare
The Think Tank was facilitated by leading sustainability educator and consultant
Ian McBurney
, and featured snap shot presentations from professionals, followed by engaging and interactive discussions. Beamed in live from Washington state we had
Nick Thorp
, Global Community Manager of the
Global Green and Healthy Hospitals
network, to hear about this rapidly expanding network and the innovative platform that is enabling health and sustainability professionals to connect with one another around the world.
Check out this Storify report from AHHA
here.
2013
Looking for resources to support your sustainability in healthcare journey?
See below for some useful reports, websites, videos and links to tool kits to get you started on 'greening the health care sector'.
Can Sustainable Hospitals Help Bend the Health Care Cost Curve?
This DVD is an induction film for NHS staff so they can appreciate the connection between climate change and health and the reasons to take the issue seriously.
For Nurses