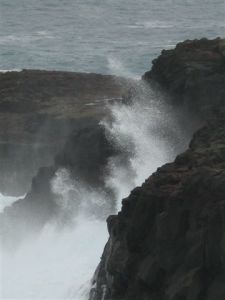 The passing of the flood levy to rebuild Queensland by the Senate today will allow for a new beginning for thousands of people affected by the floods, and go some way to addressing the damage repair bill - estimated as billions of dollars. This levy will assist in alleviating some of the catastrophic impacts of the floods on the state and on local communities, for whom recovery will take months and years as houses and infrastructure are rebuilt, and lives and businesses pieced back together. It is to be hoped the support of government and community along with relief appeals will make the task of rebuilding easier for affected communities. But as communities are rebuilt, what preparations are being made to protect them from future damage and risk? These floods were a sobering reminder of the power and influence of the natural environment on the safety and wellbeing of the community. But one of the most extraordinary aspects of the recent extreme weather in Australia was not the ferocity and scale of the record breaking events but the absence of any public dialogue about the link between these events and global warming. The recent floods in Queensland and Victoria have been widely acknowledged as being of epic and unprecedented proportions but little is being said about the human contribution to forces driving these events. Just as the reports from the devastating bushfires in Victoria in 2009 ignored the contribution of anthropogenic global warming and its subsequent effects on the severity and frequency of extreme weather events, there has been little or no recognition among journalists or political leaders about the links between climate change and the floods that affected hundreds of thousands of people across Australia.That politicians ignore the issue is easier to understand " the Queensland Premier has an election to fight next year and her government has recently endorsed an ongoing to commitment to industries responsible for causing climate change, such as coal. But the failure of the mainstream media to question this contribution, to seek the advice of experts, or to draw links between these events and global warming in an effort to educate (one the media's most important roles) the community on this issue is bewildering and alarming. The failure to do so will almost certainly come at considerable future cost to the community. The costs of cleaning up and rebuilding after the floods in Queensland is enormous, and goes well beyond financial and extend to broader economic as well social, psychological, and human health costs. Given the likelihood that these events will occur again, with one in a hundred year events now occurring every few years (or in the case of St George, every year), and with increasing intensity and frequency, we should be seeing a recognition of this in actions to prevent further catastrophe for populations at risk. The scientific evidence is extremely clear: continuing to burn fossil fuels for power generation and thus contributing to further global warming places the entire human population at great risk. It places particular populations (e.g. those residing on low lying areas; some coastal communities; those with limited water security) at considerable risk. For too long, too many Australians seem to have adopted the view that climate change is only going to affect poor people, far away. But as evidenced by recent events in Australia, we can now count ourselves as among those populations at great risk. This level of risk has arisen from the global average temperature rise that has already occurred of just 0.8°C. This level of warming took around 100 years to occur. However we know that, thanks to an inexorable rise in greenhouse gas emissions (up about 10% each decade in Australia), atmospheric CO
2
levels have now risen to 390ppm, higher than at any time during human civilisation on Earth. This is considered responsible for increases of global average temperatures of around 0.2°C per decade. Given there is now demonstrable current catastrophic effects on our local population from less than 1°C rise, it is incredible to witness the failure to acknowledge this risk by those in a position to not only inform the population of this seminal risk, but those who have accepted responsibility to lead our community. Russian President Medvedev acknowledged the link between extreme weather events and global warming in 2010 when unprecedented soaring temperatures contributed to
56,000 deaths
in his country, saying "... what is happening now in our central regions is evidence of this global climate change, because we have never in our history faced such weather conditions in the past." The effect of these events on Australian communities is shocking. And it is regrettable that only now will many Australians feel any empathy with the 750,000 recently left homeless in Sri Lanka from flooding and the 20 million displaced in Pakistan in 2009. Emeritus Professor of Science and Technology at Griffith University in Queensland, Ian Lowe said: "The Queensland floods are another reminder of what climate science has been telling us for 25 years. As well as a general warming and increasing sea levels, it predicted more frequent extreme events: floods, droughts, heatwaves and severe bushfires." In order to continue to protect communities from ongoing and increasing risk from these extreme weather events in Australia, it is time our political leaders and those in the media acknowledged the evidence of the risk we face. For in order to obtain the requisite community support for policy action, more information about these risks must be shared explicitly with the community. Businesses that are bearing the brunt of extreme weather events are less reticent to do so, with global reinsurer Munich Re stating in December 2010: "The only plausible explanation for the rise in weather-related catastrophes is climate change". Given that we can't take effective action unless the entire community comprehends the very grave risks we face, it is time our leaders (and more of the media) did the same.
Fiona Armstrong is the founder and convenor of the
Climate and Health Alliance
.